Toledo Jazz Orchestra partners with TAPA; Alain Trudel named big band artistic director – BG Independent News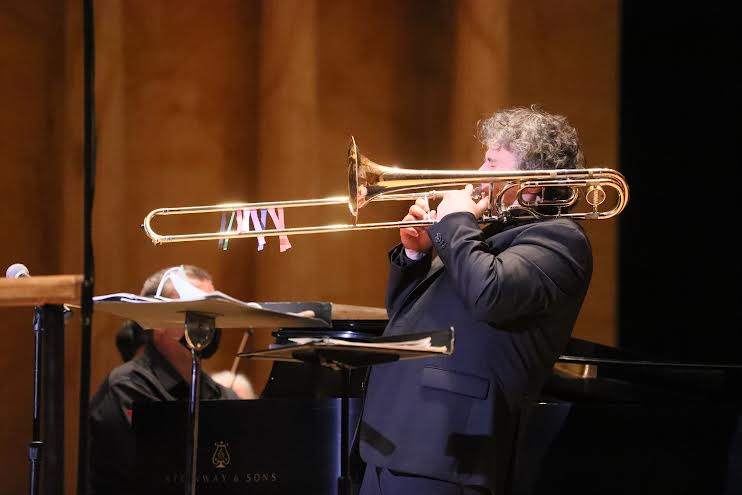 [ad_1]
From TOLEDO ALLIANCE FOR THE PERFORMING ARTS
The Toledo Jazz Orchestra (TJO) and the Toledo Alliance for the Performing Arts (TAPA) have announced a new strategic partnership, which will take effect in the 2022-2023 season. In this new arrangement, TJO will remain an independent, not-for-profit organization, but TAPA will provide administrative direction. In addition, the TJO announced the appointment of Alain Trudel as the next artistic director.
TAPA, which encompasses the Toledo Symphony and Toledo Ballet, was established in 2019 as a collaborative performing arts organization. TAPA seeks to optimize music and dance performances and improve educational offerings in the community. TAPA also offers shared services to other performing arts organizations.
The TJO recently celebrated its 40th anniversary. It has a distinguished history of presenting the best names in jazz to local audiences. It presents five big band performances each year as well as smaller ensembles, which perform around Toledo.
In this new partnership, TAPA will provide TJO with administrative support, including marketing, fundraising, ticketing and operational services. By appointing Alain Trudel its artistic director, the organizations will connect more on artistic issues. Trudel is the musical director of the Toledo Symphony Orchestra.
"Although the Toledo Jazz Orchestra is a fantastic ensemble, we have operated in relative anonymity for more than 40 years," said Scott Potter, Chairman of the Board of TJO. "Our partnership with TAPA strengthens our presence and gives us a great opportunity to expand our audience. The TJO is also very pleased to work with the artistic director and maestro of the Toledo Symphony Alain Trudel. Alain has very diverse musical interests and is a legit jazzer.
Trudel is equally enthusiastic. "It is with great emotion that I join my new colleagues from the Toledo Jazz Orchestra," he says. "I feel humbled to join such a historic group in our community and in the country where jazz was born! Personally, coming from a family of jazz musicians, it allows me to share even more with our community my musical vision of TAPA.
[RELATED: Alain Trudel mixes it up with Toledo Jazz Orchestra in night to remember]
During the 2022-2023 season, the organizations will explore other opportunities for collaboration. This includes the TJO becoming an official member of TAPA. Both organizations received funding from the Greater Toledo Community Foundation (GTCF) Strategic Alliance Partnership Program. This will allow TAPA to perform services for the TJO, but TJO to remain independent and retain control of its revenues.
"This arrangement provides a chance to date someone before marriage," says Zak Vassar, President and CEO of TAPA. "Through the GTCF, our team can provide additional services to the TJO on a trial basis. We will have many opportunities to build trust between organizations and see how well we work together. If TAPA succeeds in improving the visibility of the TJO and its revenues, it will be much easier for us to envision a future together.
The GTCF provides Strategic Alliance Partnership funding to encourage nonprofits to consider ways to work more closely. "The Greater Toledo Community Foundation encourages and supports the alliance between TAPA and TJO," said Keith Burwell, GTCF President. "This alliance will enhance community music experiences and bring operational efficiencies to both organizations."
"One of TAPA's founding principles is to make the performing arts stronger together," says TAPA's Vassar. "Rather than using our precious resources to go out and create individual versions of the same wheel, we can combine our resources and invest in the excellence that we can share. It makes the performing arts in the region brighter, provides more compelling programming for our community, and creates a stronger foundation for years to come.
TAPA will include TJO performances in its 2022-23 season brochure. This includes five big band performances, three of which will be conducted by Trudel: Classics from the Great American Songbook (Nov. 17), a Swingin' Christmas (Dec. 17), a celebration of Duke Ellington & Billy Strayhorn (March 23), an evening with Matt Catingub (April 8) and The Art of Art Tatum (May 6). The November show will also feature dancers from the Toledo Ballet.
"It will be an incredible year," said Alain Trudel. "I can't wait for our community to come together and experience all the great music we have planned. It's such an honor to perform it here for all of you.
For more information about TAPA and the TJO, please contact Vanessa Gardner, Director of Marketing and Communications at vgardner@artstoledo.com.
[ad_2]
Source link