The Great Takeover: Stephen Philip Harvey Jazz Orchestra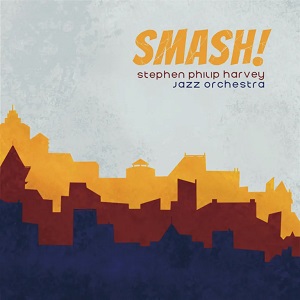 [ad_1]
Stephen Philip Harvey Jazz Orchestra – Smash! (next level)
June 16, 2022
Stephen Philippe Harvey love superheroes. The Pittsburgh-born/Maryland-based saxophonist, composer, teacher, and bandleader grew up looking at colorful costumes and solving hard-hitting problems in Saturday morning cartoons (but not reading the comics that spawned them). ). Although music eventually overtook her interest in superheroes, her childhood infatuation remains a creative inspiration. Trading in archetypes rather than specific characters, Harvey uses his considerable skills as a composer and arranger on Smash! pay homage to the world of capes and costumes with its big band.
"Zephyr", for example, is an ode to the joy of flying, the wind in the hero's face, the cape flapping behind him, and the melody matches the feeling. A blend of compassion and melancholy, "Projectile Dysfunction" extends a sympathetic hand to innocent bystanders on city streets during a fight between motorized beings, dodging debris and enduring shrapnel and insurance claims. . The fusion-powered "Mechanical Men" salutes the robots and androids of the superhero universe, while the frenzied title announces super-strength and the art of the well-placed blow. The ingenious "Nefarious Plots" gets funky with its sly nod to the bad habit of supervillains explaining their evil plans, giving their opponents a chance to escape and foil everything. The dynamic "Party Song" was written outside of the theme, but the generally festive mood matches the tributary concept.
Harvey's arrangements emphasize riffs and melodies rather than improvisation, though he certainly leaves room for his team to express themselves when called upon. But its focus on melodies keeps the songs effervescent and accessible, which makes Smash! perfect for that superhero lover in your life who needs a 21st century big ensemble jazz blast.
[ad_2]
Source link