MSU Jazz Orchestra Wins National Honors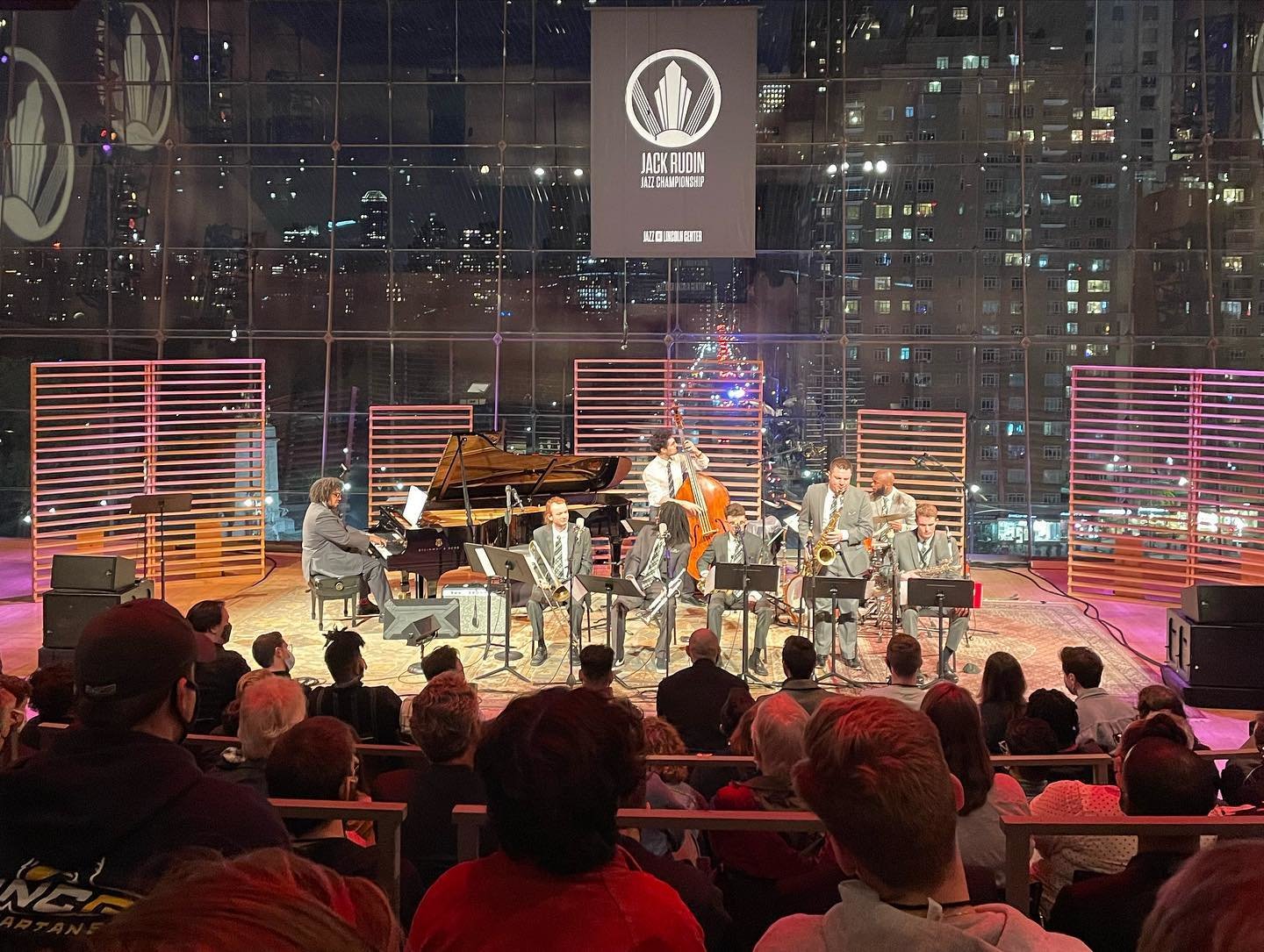 [ad_1]
Lawrence Cosentino
FRIDAY, April 22 — If the Michigan State University Jazz Orchestra had a theme this week, it would be Cole Porter's "You're the Top."
After months of rehearsals and preparation, the first set of the Jazz Studies program won first place in the nation at the Jack Rudin Jazz Championship at Jazz at Lincoln Center on Wednesday (April 20).
The competition pitted the nation's top 10 college ensembles against each other, in the prestigious setting of Manhattan's premier jazz showcase, under the critical eye of a distinguished jury: trumpeter-composer and director of Jazz at Lincoln Center Wynton Marsalis, drummer Jeff Hamilton, bassist Carlos Henriquez, pianist-composer Ayn Inserto and trumpeter Randy Brecker.
MSU Director of Jazz Studies Rodney Whitaker and the students learned they had taken first place around 10 p.m. Wednesday at the awards ceremony. Temple University took second place and North Carolina Central University third.
"They've seen a lot of hard work pay off," Whitaker said.
Five groups played on Wednesday morning and five others in the afternoon, with an order drawn by lot. MSU's turn came late in the day.
"We were able to play eighth, so we heard almost every band, and that was a bit of an advantage," Whitaker said.
The competition was tough. At 4 p.m., the judges announced that five groups, instead of the originally scheduled three, would return that night for the final round, including MSU.
Whitaker and the students finished with Detroit-bred composer-arranger Gerald Wilson's lightning-fast playing through Juan Tizol's jazz standard, "Perdido."
"It was our swingiest track, and we came to swing," Whitaker said.
First place was the culmination of months of hard work and rehearsals that began before November 2021. The Lincoln Center competition was originally scheduled for January but was postponed due to the pandemic.
The extra time turned out to be a godsend. On Wednesday, the ensemble was a well-oiled jazz machine, honed by a busy year of rehearsals, lessons and tours with guest artists.
In mid-January, one of jazz's legendary trumpeters, Charles Tolliver, took the MSU band up a steep mountain with an arrangement of "Africa Brass" by saxophonist John Coltrane.
It put the set in an elated Coltrane state of mind, Whitaker said, setting the stage for Wednesday's triumph in Manhattan. One of the three tracks the MSU set played in the semi-finals was an urgent and in-depth arrangement by Marsalis of Coltrane's "Resolution," taken from his masterpiece suite, "A Love Supreme."
The performance required the entire band to channel Coltrane's ecstatic saxophone screams into a series of explosive solos.
"I wanted to challenge the players, and that really made us stretch," Whitaker said. "Trombones, trumpets, saxophones all have to learn the Coltrane solo to perform it. Imagine – you are a trombone player and you have to learn a solo from John Coltrane. It was a big challenge. »
The performance earned the ensemble additional honors for its outstanding rhythm and horn sections, as well as individual rankings on drums with Joshua Watkins, bass with Brandon Rose, guitar with Luke Sittard, alto saxophone with Eric Law, trombone with Wyatt Forhan, trumpet with Lucas Stickley-Miner, Jeremiah flack and Trunino Lowe, and principal trumpet with Alex Bender.
"A few people should have had one and didn't, but that's how competitions are," a proud Whitaker quickly added.
The MSU ensemble also performed Billy Strayhorn's lively, meandering essay in sophistication, "The Eighth Veil."
Whitaker said the MSU group learned a lot from finishing third in the inaugural Jack Rudin contest, in 2020. (The 2021 contest was canceled due to the pandemic.)
"The judges told us the drummers were too strong, we exploded too much, we needed to work on the phrasing and listening between sections – so many really good things," he said. "I took that list and made it our focus."
When it comes to musical competition, Whitaker has a bifurcated philosophy.
"I love them because it forces you to commit, to do well," he said. "If you're petty and you're just going in there to win, your heart isn't in the right place. It's not about beating someone, it's about learning and stretching.
Jazz competitions, said Whitaker, reflect the practical reality of musical life.
"You audition for a gig, there's a bassist, a saxophonist," he said. "You are always in competition, whether you realize it or not."
At the same time, he tells his students that when it comes to art, competition has no place.
"When it's time to play, it's not about winning or losing," he said. "It's about expressing what we came to express."
The intense experience, from rehearsals to trips to testing on the most prominent stage in the jazz world, only increases the learning curve.
"When we go to a competition, we walk into the music," Whitaker said. "We talk about the music and its history, in a way that we otherwise don't."
Taking the top honors in 2022 would seem to leave the program with nowhere to go next year, but Whitaker doesn't see it that way.
"Our goal will be to top our performance this year," he said. "If people come in and play better than us, that's good."
[ad_2]
Source link