Luther College Jazz Band Performs Concert – Luther College Chips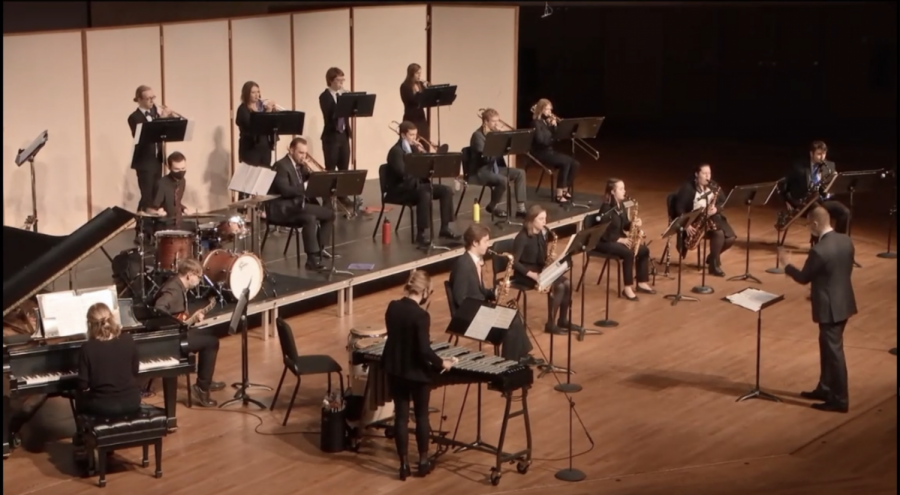 [ad_1]
On Saturday March 6, the Luther College Jazz Band presented a virtual concert at the Center for Faith and Life. Led by Jon Ailabouni ('10), the 19-person jazz ensemble performed five pieces, including 15 solo performances.
To start the concert, Ailabouni conducted the ensemble in a performance of Denzil Best's "Move", a catchy and upbeat rhythm piece with solos by Elizabeth Hand ('21), Nolan Mancl ('22) and Owen Schupbach ( '21). This first piece was Ailabouni's favorite.
"It introduces each of the sections of the group," Ailabouni said. "But especially the trombones, which did a great job. It's classic Duke Ellington handwriting, in terms of harmony and orchestration, but the melodies are more reminiscent of the typical Kansas City style of Count Basie.
The soloists had the opportunity to improvise their own melodies while playing with others during the performance. While preparing for the concert, pianist Clare Dvoracek ('24) noticed how skills learned in learning improvisation benefit the ensemble as a whole.
"Learning to improvise solos with the band taught me a lot about communication," said Dvoracek. "As in verbal communication, listening is the key."
After "Move" there was "Feet Bone" by Duke Ellington. Dvoracek began the piece with piano melodies typical of Ellington's compositions. Next came a slower track, "Count Me In" by Bill Byers, whose slower, sung melodies recalled the closing music found in Harlem clubs, bringing patrons home in the early hours of the morning. "Count Me In" featured a trumpet solo by Schupbach and turned out to be Dvoracek's favorite selection.
"My favorite track is the arrangement of 'Count Me In' by Count Basie," said Dvoracek. "The laid back style and all the little nuances in the score make it super fun to listen to and play."
The next piece on the program, "Chameleon" by Herbie Hancock, featured seven solo performances and was a great piece for performers to improve their improvisation skills, according to percussionist Hand.
"The funk board for this concert, titled 'Chameleon,' was an open invitation to anyone who wanted to try out a solo," Hand said. "This more democratic approach to soloing in a big band is definitely something I admire because it gives everyone the opportunity to improvise, an integral part of jazz music. "
The final track from the concert, "Momcat Mambo" by Michael Phillip Mossman, left the audience with an upbeat and upbeat selection for the start. Proud of the work accomplished by the ensemble, Ailabouni commented on how the jazz group had persevered during the pandemic and changed the rehearsals, remaining a community of passionate musicians and students.
"The chat room between musicians created a sense of deeper community, trust and awareness of how our lives are inextricably linked to our musical creation," said Ailabouni. "Wayne Shorter, the great American saxophonist and composer, once said 'your humanity is your instrument'. We have certainly been practicing this in a jazz band this semester.
[ad_2]
Source link