Jazz Band Batavia Collective Talks Going Global With UK Release – Entertainment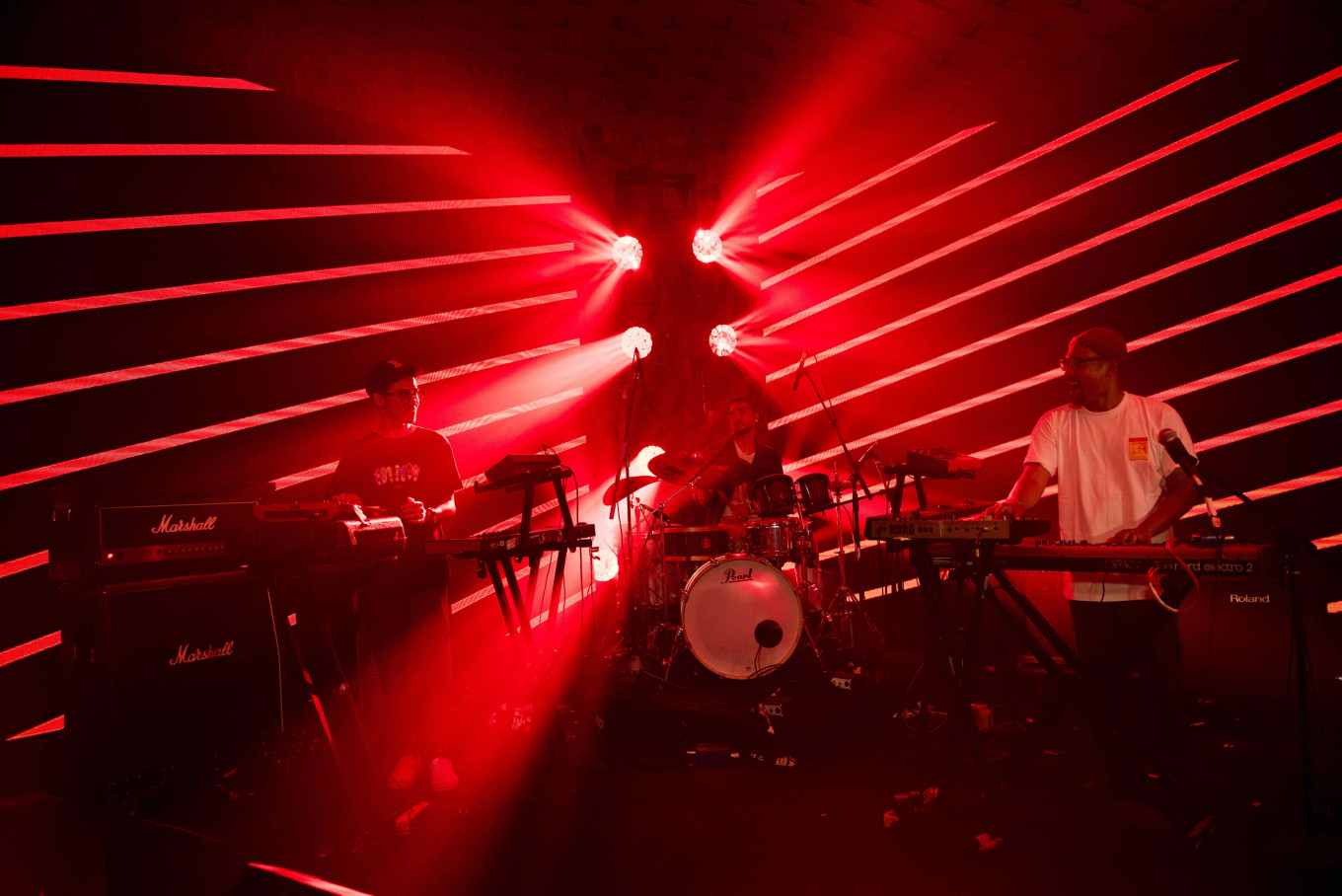 [ad_1]
Anindito Ariwandono (The Jakarta post)
Bandung ●
Mon July 25, 2022

2022-07-25
11:28
1
60f2c97657653f934c077278d102839f
1
Entertainment
Batavia-Collective, music, novelty, new-disc, EP, jazz
Free

Jakarta-based jazz band Batavia Collective talks about working with a UK-based label, in the face of rejection and their outlandish, off-the-cuff approach to songwriting.
On June 10, Jakarta-based jazz trio Batavia Collective released their second single, "Propulsion", via R&S Records, an independent label operating in London. A near-departure from their debut single, the band's latest instrumental single is a more exploratory outing, eschewing more conventional structures and production decorum in pursuit of the song's momentum.
The "imperfect track", as the band phrased it, was, however, selected by the label from among a dozen more polished written and recorded demo songs, imploring them to move on to a more impromptu approach to songwriting and prioritize live recording over conventional tracking.
What's in the name: "If we are talking about Batavia, then we should go back to ancient times. We are actually a group of old souls. Just kidding," Zulham quipped. (Courtesy of Irfandhia Anshari) (Courtesy of Irfandhia Anshari/Courtesy of Irfandhia Anshari)
The gatherer and the gatherer
"The idea came from Daniel. He contacted us for a 'Mixtape Session'," said Elfa Zulham, the band's drummer, when asked how the band first formed.
Mixtape Session was a project set up by the music collective of Daniel GOODNWS and Berita Angkasa, where musicians were invited to collaborate live, performing medleys of hip-hop samples or sketches they consider prolific.
"But the initial formation [that performed at Mixtape Session] was different. Doni Joesran was there, myself, J Mono, Randy MP and Leno, right? Leno Rei," Zulham said.
"Yes, Leno," Daniel confirmed.
"It was intentional, the way we were originally trained. I was very excited to learn that the [project's] direction would be towards hip-hop. I really like the genre, and I've known the others for a while, even been involved in a few projects together in the past. We decided to move forward as a band after that," Zulham continued.
"Well, the band itself wasn't meant to be, but the [Mixtape Session] project itself was intentional," Daniel added.
Kamga's involvement early in the group's formation phase was also not far from unanticipated. Daniel had contacted Kamga to come over during their time in the studio, "then they all of a sudden jammed and did a song together. Affirmation."
They did not include the song in the Mixtape Session but later performed it at a live event, during which they received quite an enthusiastic response from the audience.
"So I said to them, 'So, should we go? Should we release the song? said Daniel, reminiscing about the moment.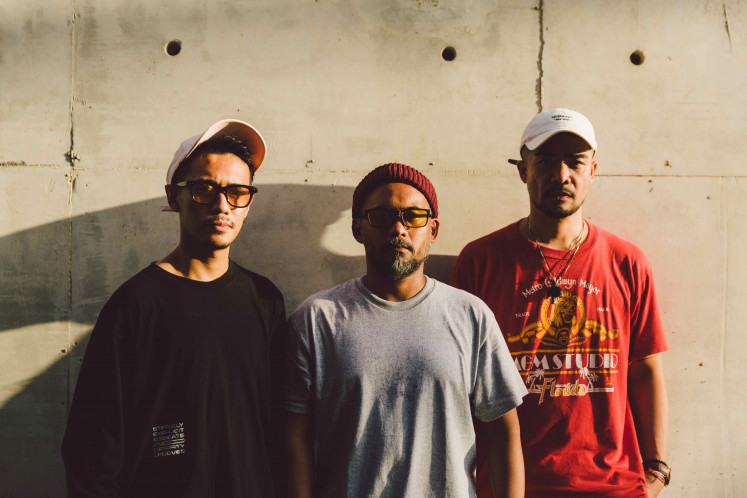 Hard-hitting trio: Batavia Collective – made up of Kenny Gabriel (left), Doni Joesran (centre) and Elfa Zulham – strive to seek out new sounds through an impromptu jam-based approach to songwriting. (Courtesy of Denny Novikar) (Courtesy of Denny Novikar/Courtesy of Denny Novikar)
Fall in place
Their debut single, "Affirmation", was sent to R&S Records artists and repertoire by one of their colleagues, Reza Ecilo, a Jakarta-based techno DJ. The label, which has also released seminal works by acts such as Aphex Twin and James Blake, among other big names, noticed Batavia Collective and got in touch soon after.
"I was surprised. 'Are you serious?', I thought. 'R&S?'. I had known them for a while back then," Daniel noted when first contacting the London-based label. "The guys went there."
They then signed with the label for a three-disc deal – two EPs (full length or mini album) and an album.
After the release of "Propulsion", they were amazed by the comments of the label's public relations manager, as it included comments from prominent names such as French producer and DJ Laurent Garnier, DJ Bone and Antal, the label's co-founder. based in Amsterdam. Rush hour records.
"We didn't expect it. It started out as a jam band, but everything seemed to come together well," Daniel said.
"We're still a jam band, basically," Kenny Gabriel said. Kenny joined the band as a synthesizer bassist after the departure of J Mono and Leno Rei, shortly after writing "Affirmation".
"Honestly, we only rehearse when we have a show coming up," Daniel added.
Similar to how they approach their live performances, the band's creative process in songwriting ultimately omits any preparation before entering the recording session.
"We work on the songs in the studio the same day we record them," Kenny remarked.
Part of the justification was due to the fact that all members of the current trio are seasoned musicians with considerable influences.
"Conventionally, a songwriting session should be in place, but that kind of pattern would end up making us want too much. We would end up being lost," Kenny said as Daniel sneered.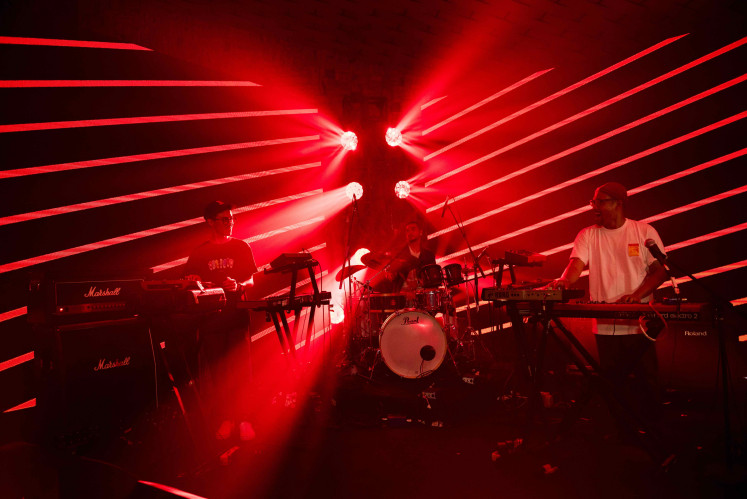 Pre-pandemic: Batavia Collective perform at The Other Festival, Hotel Monopoli, Jakarta on December 28, 2019, which was their last show before the COVID-19 pandemic. (Courtesy of Rakha Syahreza) (Courtesy of Rakha Syahreza/Courtesy of Rakha Syahreza)
The silver lining
R&S, as a label, has also given the band a more than considerable impetus to evolve towards its current approach.
"We gave Renaat [Vandepapeliere, owner-slash-artist-and-repertoire of the R&S Records] 15 demo songs, or maybe 12," Daniel said. "None of [the demo songs] suited him. He didn't like it. No no."
The demo songs in question were prepared with a more conventional approach to songwriting.
"What he liked, instead, was a piece of a video we did with Friday League [a clothing brand from Jakarta] where Batavia Collective was performing live. The song was actually rejected before, but when the band played live, they liked it.
It was "Propulsion".
"We were doing ['Propulsion'] in two recording takes, right? said Daniel.
"We played there once," Zulham replied.
"Two takes. [pauses] On reflection, I think it was only once," Kenny said.
"Yeah, that was just once," Zulham confirmed.
The band offered Vandepapeliere a "more correct" recording for "Propulsion" but he firmly requested the live version already recorded.
"It "clicked" for us at that time. We felt he preferred live recordings," Daniel noted. Subsequently, the band applied the live recording approach and gave Vandepapeliere six songs. All have been approved and will be released as EPs.
"I don't know, maybe I'm the polar opposite [to Vandepapeliere, in terms of production]. Everything that was approved kinda made me like 'oh man, why did he choose those.' I was still not satisfied with what we were doing. I mean, we're going through a pandemic and I wanted it to be perfect. But I do not know. Different preferences, I guess. They prefer raw, live sounds," Zulham commented.
"The recordings do contain errors, like proper errors," Kenny laughed while shaking his head.
"And my snare cracked towards the end of the [recording] take. It sounded awful," Zulham added.
"But he didn't complain. "It's fine," he said," Kenny said, mimicking Vandepapeliere.
Challenges
Zulham noted that Batavia Collective, among his other musical projects, counts as a distinctive project, in which he explores his interest in finding new sounds.
"I think there really is no limit here," Zulham said. "It's different from my other projects, I find a certain freedom [in Batavia Collective]. This is my home band looking for new sounds.
In defining the sound of Batavia Collective, Kenny has his own perspective where, as he put it, he empties himself to create something in Batavia Collective.
"Everything I know, everything I've learned, has to be poured in with a fresh perspective, or it won't feel like Batavia Collective," Kenny said.
"It's my most difficult project. I need to be a bit more abstract, I think. It can't just be 'normal', I need to be a bit 'weird'. We often forget our own songs .
"Oh, this is Doni," Daniel said as Doni Joesran, the band's keyboardist, logged into the room and turned on his video, showing a close-up of the upper half of his face.
"Sorry, I was in the middle of […]I couldn't stop," Doni said, his voice crackling over poor reception.
"We did a show at Potato Head Bali and Doni asked for his [return plane] ticket to be refunded," Daniel interjected. "He hasn't come back since. Daniel burst out laughing.
"It's called a bonus. It's like 3 Hari Untuk Selamanya [3 Days to Forever]said Doni, referring to the 2007 Indonesian film.
"The name Batavia Collective no longer concerns him. It should be 'Canggu Collective'," Kenny teased.
"Canggu Collective, yeah," Doni replied.
"I think my challenge being in Batavia Collective is to maintain my musicality. Especially since I am now based in Bali. Also, R&S is kinda weird in a way, it made me half pray the whole time," Doni said offering a humble perspective on being in the band.
"You don't look very confident mas [Brother] doni. You are the oldest here," Kenny followed.
"You may not realize it, but it's true. Take the last Java Jazz Festival for example, we only rehearsed once. Y'all are crazy," Doni said with a dry laugh.
[ad_2]
Source link