French Preservation New Orleans Jazz Band • Dancing to real news… – The Syncopated Times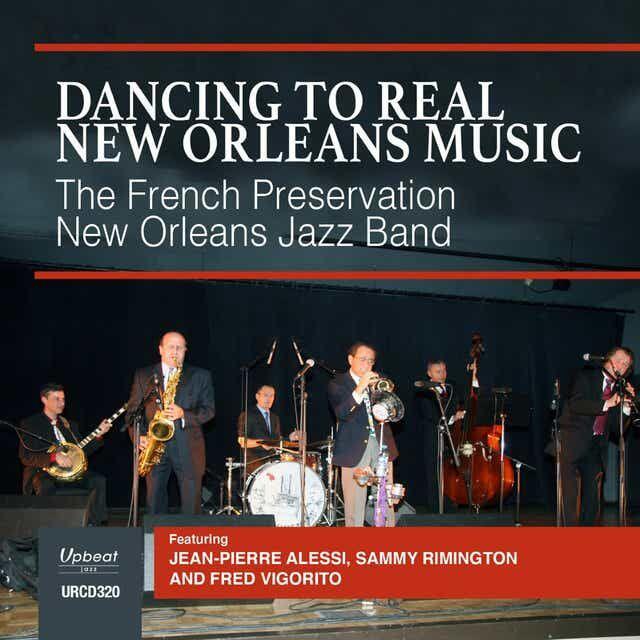 [ad_1]
In the more than seven decades since the start of the traditional jazz revival in the 1940s, Europe has produced some top notch traditional jazz bands. The French Preservation New Orleans Jazz Band was one of them, and this recording of a gig at one of their favorite spots in Irigny, France, features two guests: Sammy Rimington from England at clarinet and alto sax and USA's Fred Vigorito on cornet, both of whom frequently appeared on other band recordings; so everyone knows each other musically.
The list of tunes includes several genres, just as one would have found with bands playing in New Orleans dance halls, and most of the tunes will be familiar to dancers today. While the title "Calcutta" might not immediately resonate, once the track kicks off, it should ring a bell. Everyone else will probably be immediately recognized.
Each piece is thoroughly practiced, there is no three minute limit like in 78s time. So we find the shortest time, 4 minutes. 45 sec., being attributed to "Burgundy Street Blues" and the longest, 8 min. 50 seconds, given to "Just a Closer Walk with Thee". All the others fall somewhere in between. Unconstrained by time, musicians can and do explore casually, so each track opens up as they work their magic. Contrary to what one might expect, there is not as much ensemble playing as is often the case with the New Orleans style of playing, but what each musician finds in their solo is so captivating that one tends not to be aware of this overall de-emphasis. work.
Each of the musicians has his or her moments in the spotlight except one, Vincent Hurel on drums. It remains quite discreet, but a few hurried rolls are detectable on certain tracks and judiciously placed accents on others, such as "Am I Blue" and "Victory Walk". If Hurel has cymbals in his battery, he must touch them lightly.
The others in the back line make their presence known. Dominic Molton is by no means a loud bass player, and although he does occasionally have solos, he is unfortunately not mic well, as is often the case with bass on live recordings. It is therefore necessary to force a little to hear it, for example on "Rum and Coca Cola".
The other member of the rhythm section, Henry Lemaire on banjo, is responsible for providing the necessary chords in tandem with the bass since there is no piano to provide them. This he has no problem doing, and he provides lovely strumming, as well as string and tremolo work along the way, as he does in his solo on "Rum and Coca Cola" – l chord with intermittent tremolos keeping things interesting – and also on the bridge and chorus of "Pretend", where it displays excellent single string and tremolo work. Lemaire, Molton and Hurel form a formidable almost metronomic rear line in their mastery of tempos.
The forwards, who have often worked together on other occasions, are surfing well here on the wave offered by the back line. JP Alessi, the leader, with his usual trombone tenor sax substitutes in the front lines of New Orleans. His saxophone history is not long, but he manages quite well to fulfill the role of filling in the spaces provided by others for low tones.
His cohorts, both well known in the mainstream jazz world, present beautiful contrapuntal jazz. Sammy Rimington is all over the clarinet, showing his mastery of the low register, chalumeau as well as the upper register, performing flawless runs and arpeggios. His feature film, "Burgundy Street Blues", which he performs solo with rhythmic accompaniment, is proof enough (if needed) of his virtuosity.
Fred Vigorito, disciple of Kid Thomas Valentine, intertwines his Valentine-style set of flares and growls, as well as his subtle use of mute cuts and derbies. These enhance his theme development while improvising.
"Rum and Coca Cola" demonstrates the cohesion of the group. A moderate tempo established, the ensemble, led by the cornet, continues the first two times. The clarinet then takes a solo chorus, starting in the chalumeau register and then moving up, staying in the upper register for another chorus and running a few big runs. The tenor sax follows, once on the melody, then on the improvisation for a chorus. A banjo solo follows, in tune with intermittent tremolos, the variety of which keeps things interesting. Next comes the bass solo – just a little under-recorded – again stating the melody. Once again the ensemble comes on stage to release the melody after a few choruses, which include some very fine improvisations in the upper register by the cornet in the penultimate chorus.
Jelly Roll Morton stipulated that the melody should always be present, and the group here adheres to this principle, with one of the frontline members invariably carrying the melody for a chorus and then passing it on to another member, the others supporting with counterpoint, obbligatos or harmony. The result is just over an hour of very enjoyable jazz.
Upbeat CDs are available on the Upbeat website www.upbeat.co.uk as well as online at sites such as Amazon and www.cduniverse.com.
Dance to real New Orleans music
French Preservation New Orleans Jazz Band
URCD320 optimistic
Staff: Sammy Rimington, clarinet, alto sax, vocals; Jean-Pierre Alessi, tenor sax; Fred Vigorito, cornet; Henry Lemaire, banjo; Dominic Molton, bass; Vincent Hurel drums. Recorded in Irigny, France, December 16, 2005.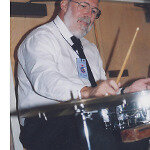 Born in Dundee, Scotland, Bert Thompson came to the United States in 1956. After a two-year stint playing drums with the 101st Airborne Division Band and doing a number of airdrops, he returned to life civilian in San Francisco, enrolling at San Francisco State University where he earned a BA and MA. He continued his education at the University of Oregon, where he earned a DA and Ph.D., all his degrees in English. Now retired, he is Emeritus Professor of English at City College of San Francisco. He is also a retired traditional jazz drummer, having played with a number of San Francisco Bay Area bands including And That's Jazz, Professor Plum's Jazz, the Jelly Roll Jazz Band, Mission Gold Jazz Band and the Zenith New Orleans Parade group; he also played with musicians further afield, including Gremoli (Long Beach, CA) and the Phoenix Jazzers (Vancouver, BC). Today, he reviews traditional jazz CDs and occasionally writes articles for several publications.
[ad_2]
Source link