Bill Yeager Jazz Orchestra premiered at Smith Recital Hall – The Daily Aztec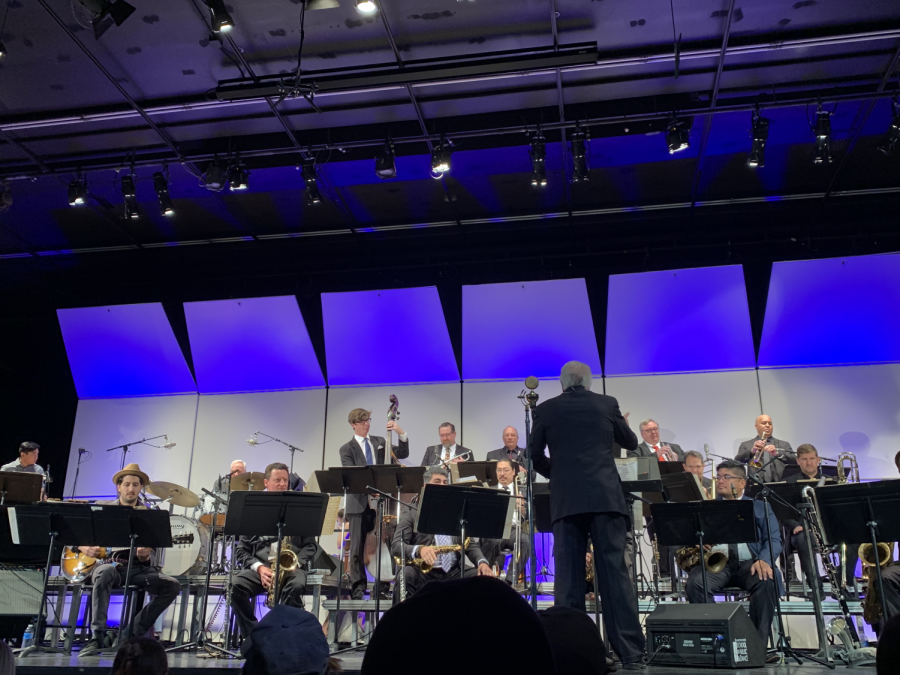 [ad_1]
Bill Yeager Jazz Orchestra (BYJO) made his successful San Diego State debut at Smith Recital Hall on October 16. The program consisted of difficult paintings from Louie Bellson's personal library, which Yeager inherited upon Bellson's death.
Yeager has had a notorious trajectory in the world of jazz music, having shared the stage with big names such as Frank Sinatra, Ella Fitzgerald and Sarah Vaughn. He served as principal trombonist in Louie Bellson's group for 17 years. The Bill Yeager Jazz Orchestra is fortunate to have some of Southern California's best jazz talent, composed by fellow Yeager alumni and alumni.
The event began with a quick improvisation by Don Kuhli on drums, immediately silencing the audience and capturing their attention. This concert was a double start, as BYJO premiered "Stars in a Lonely Sky", the only scheduled piece that was not from Bellson's library. Yeager commented on this, saying the premiere was recorded for the publisher as part of a deal with BYJO.
Yeager said making this debut was a "pretty exciting" experience. Regarding BYGO's future plans, Yeager presented a bright future.
"We are considering a tour … the first tour, maybe, in Japan [because] we share this editor with the Tokyo Jazz Orchestra… This is the maiden voyage of this group, "said Yeager.
In light of BYJO's deal with a music publisher, Yeager mentioned that they would likely create a play, although they don't have a set concert series yet. Still, the conductor said he thought they were off to a good start, as both Saturday concerts were sold out.
Unsurprisingly, bringing together so many promising and talented musicians in one group is no easy task.
"The band is so good… it's the culmination of 36 years here, and 10 years when I owned the Los Angeles Jazz Workshop," Yeager said.
Some of the band's musicians were formerly its students at SDSU or the Los Angeles Jazz Workshop. Yeager said that after the students completed their studies under his guidance, they would continue to play together and, over time, became friends.
This performance was eye-opening for some of Yeager's general education students, who were scheduled to attend the event, including Kim Pham, a second-year management information systems student.
"As it was my first jazz orchestra concert, I didn't know what to expect… After hearing everyone play, I'm more open to listening to more jazz music… before the concert, I didn't know than slow paced jazz, then that really opened my eyes, "Pham said.
Jennifer Tran, a sophomore major in child development and another Yeager student in a general education course, had an equally eye-opening experience, as she had never experienced live jazz and had never experienced live jazz before. had not listened to a trumpet and bass in person.
"It was great to see everything being taught in the classroom… in action," Tran said. "Listening … the orchestra live … has changed my [perspective] on jazz music. This created my interest in jazz!
Somewhat more experienced listeners were also present, such as Alvin Pham, a junior in kinesiology, who commented that he had a great deal of respect for jazz players, and noted that it was evident that the soloists were playing hard, highlighting how this reflected the passion of the performers.
[ad_2]
Source link