At the Bal du Jazz Band – Les Temps Syncopés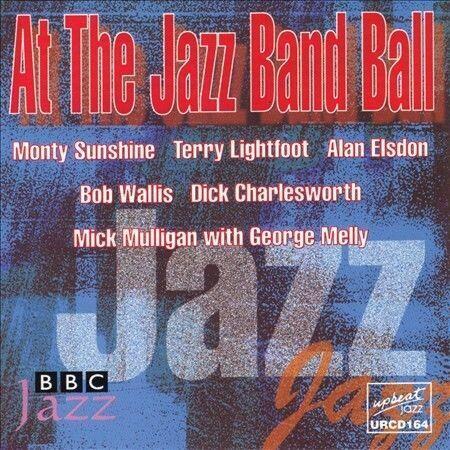 [ad_1]
A number of jazz concerts broadcast in the UK on the BBC Radio in the early 1960s while the "commercial boom" was underway and rock and roll was on the horizon. Many of them have been published in three volumes by Optimistic records (URCD164, URCD169, URCD230 [formerly URCD166]), under the same title as the BBC show: At the Bal du Jazz Band. The performances of this volume have been given by several groups, all known and popular.
The first is the Monty Sunshine Jazz Band. Sunshine left the Chris Barber Jazz Band, of which he was a founding member, in 1960 and formed his own group, using Barber's as a model: six members, no piano. While Sunshine's band was very popular on the mainstream jazz circuit, Sunshine never again achieved the kind of adulation he had for his version of "Little Flower" which he recorded with a quartet of the band Chris Barber in 1956. The band kicked off with a catchy 'Down Home Rag', playing an ensemble apart from a solo from Sunshine and one from Stewart, the interplay between the instruments of the ensemble captivating and the ensemble swaying like a madman through the dynamics of the closing choir.
A complete change of pace follows, with Sunshine leading a trio consisting of himself, bass and banjo, playing a slow blues titled "Deep Bayou Blues", attributed to George Lewis and Lawrence Marrero and containing a few sentences that must also be heard. in Lewis' composition "Burgundy Street Blues". It's hard to know which one came first, but Sunshine, in her renditions of both tunes, gives the piece the deep feeling Lewis conveyed. The following tune, Blues of Savoy, slightly accelerates the tempo and then offers the listener a striking arrangement where, after the sliding of the trombone, a fascinating play of dynamics, stops and pauses occurs.
The first set then ends with "Over in the Gloryland", which opens with a muted trumpet and bass for a choir, then joined by the rest. After Bishop's voice there is a great display of harmonies and counter melodies by the ensemble until Bishop returns with a closing voice. From this set, it's not hard to see why the Sunshine group was so popular.
Next came the Jazzmen of Terry Lightfoot, another popular six-piece "piano-less" group that had several hit singles in the late 1950s, including "King Kong" and "There Is a Tavern in the Town". Lightfoot flaunts their clarinet technique to a fast-paced "Black Bottom Stomp", for which the band plays tightly marked harmony across several early strains. The other tracks include two tracks that are not often heard these days: "Makin 'Whoopee" and "Sit Down, You're Rockin' the Boat", Ljghtfoot himself providing the latter's voice.
The third group is Alan Eldson and His Jazz Band which leans very strongly towards a swing approach on two of its offerings. The title "String of Pearls" suggests Glenn Miller, as does that of "St. Louis Blues March", and indeed the arrangements of both are pure Miller, played by this little septet but sounding almost like the sixteen or seventeen. pieces from the Miller set. The first track in this set, "Johnson Rag", has an interesting notation. The first eight bars become a sort of chorus, a riff that plays behind almost all the soloists and even some ensembles. Emphasis is placed on the first note of the phrase and the values ​​of the first two notes are reversed, making the melody almost "new".
After Eldson, there is Bob Wallis and his Storyville Jazzmen. Despite the band's name, it doesn't provide a lot of New Orleans feel, but rather one that I guess you could call "Mainstream". Their opening number, "Alger Bounce", illustrates this, as it begins with the rhythm section setting a fast tempo, then joined by the muted trumpet and saxophone, a configuration more often found in modern jazz. than traditional. This chorus is carried throughout the piece, becoming a riff behind the soloists. The audience, judging by their applause, seemed to have loved it, but I found it a bit lackluster.
With "The Faithful Hussar", the group returns to a more "traditional" vein, the arrangement being pleasant. The tempo is relaxed, established by a muted trumpet, leading to a few choirs, followed by a single string banjo tremolo choir, then a half choir each of trombone and saxophone leading the ensemble. "Meet Mister Rabbit" marks a return to the "modern" vein, opening with several ensemble choirs playing in unison, followed by a sax lead, supported by a unison riff. After the piano solo, the group takes over the choirs in the opening unison to release it. For me it was nice, but I doubt that many traditional bands have taken or will take on this tune.
The next group, Dick Charlesworth and His City Gents, with their dark suits and black derbies (all that was missing was the tightly rolled up brolly) is emblematic of the penchant for unique uniforms, like the Confederate Army uniforms, for example, which was adopted by so many groups during the boom period. I'm not sure their playing would set them apart that much, though. That doesn't mean it's bad, because it isn't. But I doubt that we can, hearing them in a blindfold competition, identify them. Their opening number, an impressive "Steamboat Stomp", is taken at a very sustained tempo, the harmonies all carefully crafted. After the finale, the trombone mimics a riverboat horn note with a quarter note, followed by two eighth notes per ensemble for a nice coda.
Their rendition of "Doin 'the Crazy Walk" opens with a four-bar drum intro, setting a fast tempo. The harmony between the trumpet and the clarinet is very close, then the wire is exchanged between the clarinet and the trombone. The ensemble pulls it out, ending with a drum label, followed by ensemble stops. Again, while the band doesn't have a particularly identifiable sound, it does provide a satisfying listening experience.
The last group presented is that of Mick Mulligan and His Band. Mulligan was, by all accounts – and there were many – the consummate party animal and somewhat limited technique as a trumpeter. However, despite these flaws, he had the ability to attract stellar musicians to his bands, such as Archie Semple, Roy Crimmins, and here in this band, Ian Christie. An equal partner in debauchery was blues singer George Melly, who was a member of the various Mulligan aggregations as well as a longtime friend, and in this record's performance takes the voice on "How Long Blues".
Mulligan had no desire to shine the spotlight and was quite happy to stay on the whole, generously sharing the leadership with his partners. There are no scintillating solos on his part, and his affability seems to carry over into his playing. The result is music that is easily accessible to the audience and yet capable of swing, like here. I remember a little Eddie Condon, one of the heroes of Mulligans, and his bands. Mulligan bands were, and rightly so, very popular until 1962, when Mulligan one day called them up to play music, no doubt in part because of the growing depredations of rock and roll, although he continued to manage singer Melly, who pursued a career as a soloist.
These half-dozen groups form an assortment of some of what was available in traditional British jazz of the 1960s. (Other groups, such as those of Chris Barber, Kenny Ball, Acker Bilk, Humphrey Lyttelton and Alex Welsh, can be found on the accompanying volumes, URCD169 and URCD230). For those who were present at that time, they form a magnificent bank of memory; for those who weren't, they give a glimpse of this jazz scene. All are available on the Upeat Recordings website: www.upbeat.co.uk, as well as online from sites such as Amazon and CD Universe.
VARIOUS – At the Bal du Jazz Band – URCD164 optimistic. Playing time: 72m. 54s.
Monty Sunshine Jazz Band – October 30, 1962
Rag at home; Deep Bayou Blues; Blues of Savoy; In the land of glory
Jazzmen by Terry Lightfoot – Oct. 3, 1962
Black lower stomp; Make Whoopee; Sit down, you rock the boat; It's a lot
Alan Elsdon and his jazz group – November 23, 1962
Johnson Rag; Pearl necklace; This is not necessarily the case; Saint-Louis blues march
Bob Wallis and his Storyville Jazzmen – November 26, 1962
Rebound of Algiers; the faithful hussar; Meet Mr. Rabbit; Climax cloth
Dick Charlesworth and his Town Men – October 31, 1962
Stomp of steamboat; Avalon; If I could be with you Take the crazy walk
Mick Mulligan and his band – November 21, 1962
Bei Mir Bist from Schöen; Girl of my dreams; How long Blues; Indiana
The personnel of each group is indicated in the inlay of the case.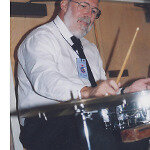 Born in Dundee, Scotland, Bert Thompson arrived in the United States in 1956. After spending two years playing drums with the 101st Airborne Division Band and performing a number of airdrops, he returned to the United States. civilian life in San Francisco, enrolling at San Francisco State University, where he obtained a BA and an MA. He then enrolled at the University of Oregon, where he earned a DA and Ph.D., all degrees in English. Now retired, he is Professor Emeritus of English at City College in San Francisco. He is also a retired traditional jazz drummer, having performed with a number of San Francisco Bay Area bands including And That's Jazz, Professor Plum's Jazz, the Jelly Roll Jazz Band, Mission Gold Jazz Band and the Zenith New Orleans Parade group; he has also performed with other musicians from further afield, including Gremoli (Long Beach, CA) and the Phoenix Jazzers (Vancouver, BC). Today he reviews traditional jazz CDs and writes occasional articles for several publications.
[ad_2]
Source link