Arturo O'Farrill and the Afro Latin Jazz Orchestra release a new album with the Conga Patria Son Jarocho collective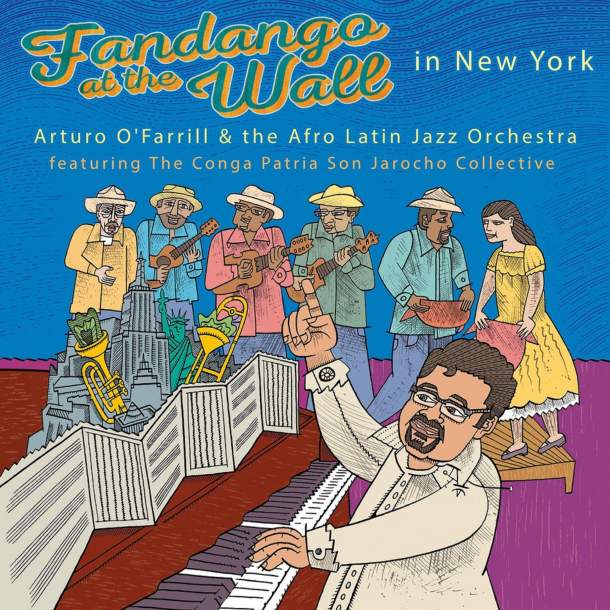 [ad_1]
A remarkable journey through Afro-Latin music and the 400-year-old regional folk music jarocho sound of Veracruz, Mexico, Fandango on the wall in New York (TigerTurn, Release Date: September 29, 2022) is the next chapter from the multi-GRAMMY Award-winning composer, pianist, bandleader, educator and activist Arturo O'Farrill and his mission to unite people through the power of deeply moving compositions. O'Farrill's latest cross-cultural collaboration, Fandango at the Wall in New York, brings together his award-winning 18-piece big band, the Afro Latin Jazz Orchestra, with special guests, the Conga Patria Son Jarocho Collective, with artists Patricio Hidalgo, Ramón Gutiérrez Hernández, Tacho Utrera, Wendy Cao Romero, Fernando Guadarrama and Jorge Francisco Castillo (founder, Fandango Fronterizo). The Villalobos Brothers also perform on Fandango at the Wall in New York.
Fandango at the Wall in New York is the next installment in a rich multimedia project that includes the critically acclaimed 2018 album, Fandango at the Wall: A Soundtrack for the United States, Mexico, and Beyond (Resilience, 2018) ; a book Fandango at the Wall: Creating Harmony Between the United States and Mexico (Grand Central, 2018); and a documentary film, Fandango at the Wall (HBO, 2020; Televisa, 2021). The Fandango at the Wall project has performed captivating performances on the US-Mexico border as part of the Fandango Fronterizo festival (2018) as well as in concert halls across the country, including most recently in front of a crowd of more than 5 000 people in New York. at Brooklyn Bridge Park's Pier 1 (July 2022) – see the New Yorker's "Night Life" concert preview (LINK). Fandango at the Wall in New York was partly recorded live in New York City.
"Fandango at the Wall In New York is especially important now, when so much is going wrong and such horrific violence is wreaking havoc on our nation," Arturo O'Farrill said. "It is more important than ever to declare that borders do not exist – they are man-made. I wanted to complete the Fandango at the Wall project for me. It was born in Mexico with the tradition of son jaracho, just as I was born in Mexico City. As a New Yorker for most of my life, I wanted to capture the spirit of New York both live and in the studio and celebrate diversity in all the wonderful ways that New Yorkers know how to do it. We collectively celebrate humanity, unity and peace through the music of his jarocho."
As the founder of the non-profit Afro Latin Jazz Alliance, O'Farrill has dedicated his life to not only crossing artificial boundaries, but erasing them in his wake. With his latest project, Fandango at the Wall In New York, O'Farrill has created an incredibly ambitious body of work that showcases the rich fruit that can grow from common ground. Fandango at the Wall In New York brings together brilliant voices from a variety of cultural and musical traditions to break down a variety of walls that isolate us – physical, musical or cultural. Fandango at the Wall In New York is an intensely joyous celebration that exults in the universal language of music.
Best-selling author, investment banker and military veteran Kabir Sehgal is executive producer of Fandango at the Wall in New York and appears alongside O'Farrill in the spectacular film Fandango at the Wall (HBO Max).
"Fandango at the Wall is ultimately a convergence project," Sehgal writes. "I hope that as you listen to this music, you hear the possibilities of what the relationship between the United States and Mexico can become. And that we, as artists and activists, continue to create the world in which we want to live."
For more information, please visit: fandangowall.com.
About Arturo O'Farrill and the Afro Latin Jazz Orchestra
Arturo O'Farrill, GRAMMY award-winning pianist, composer and pedagogue – leader of the "first Afro-Cuban jazz family" (New York Times) – was born in Mexico and raised in New York. Son of the late great composer Chico O'Farrill, Arturo played piano in Carla Bley's Big Band from 1979 to 1983 and established a reputation as a soloist in groups led by Dizzy Gillespie, Lester Bowie, Wynton Marsalis and Harry Belafonte. In 2002, he established the GRAMMY Award-winning Afro Latin Jazz Orchestra (ALJO) to bring the vital musical traditions of Afro Latin jazz to a wider audience and to greatly expand the big band repertoire. of contemporary Latin jazz through commissions from artists around the world. wide stylistic and geographical range. In March 2021, O'Farrill and the ALJO won their 7th GRAMMY for Four Questions, with Cornel West as guest speaker. In September 2018, O'Farrill released his album, Fandango at the Wall: A Soundtrack for the United States, Mexico, and Beyond, which was also released as a documentary for HBO MAX. In 2019, O'Farrill was named a professor at the UCLA Herb Alpert School of Music in the Global Jazz Studies department and is currently Associate Dean for Equity, Diversity, and Inclusion. O'Farrill's debut recording with Blue Note Records …dreaming in lions… is nominated for a 2022 GRAMMY Award in the category "Best Instrumental Composition", and his album, Virtual Birdland (ZOHO), is nominated for "Best Latin Jazz Album." O'Farrill is a Steinway artist and records for Blue Note Records.
Afro Latin Jazz Alliance
The non-profit Afro Latin Jazz Alliance (ALJA) was established by Arturo O'Farrill in 2007 to promote Afro Latin Jazz through a full range of performance and educational programs. ALJA's mission is to perform, educate and preserve the music of all the Americas, emanating from African and indigenous roots, through the entry point of jazz. ALJA embraces its mission with a commitment to social justice, equity, inclusion and equality of all cultures around the world. ALJA produces the Afro Latin Jazz Orchestra's annual season of performances in New York City and maintains a weekly engagement for the Orchestra at famed jazz club Birdland. The Alliance also maintains a world-class collection of Latin jazz sheet music and recordings. ALJA's educational programs include the Afro Latin Jazz Academy of Music (ALJAM), a school residency program serving public schools throughout the city with instrumental and ensemble instruction, the pre-school youth orchestra -professional; the Fat Afro Latin Jazz Cats, which prepare the next musical generation, and the Global Rhythms in Our Tribe (GRIOT); a community music program that engages underserved youth in anti-violence activities. The Afro Latin Jazz Alliance has administrative offices in Harlem.
[ad_2]
Source link