All-Female Jazz Band Visits as Artists-in-Residence – The Dickinsonian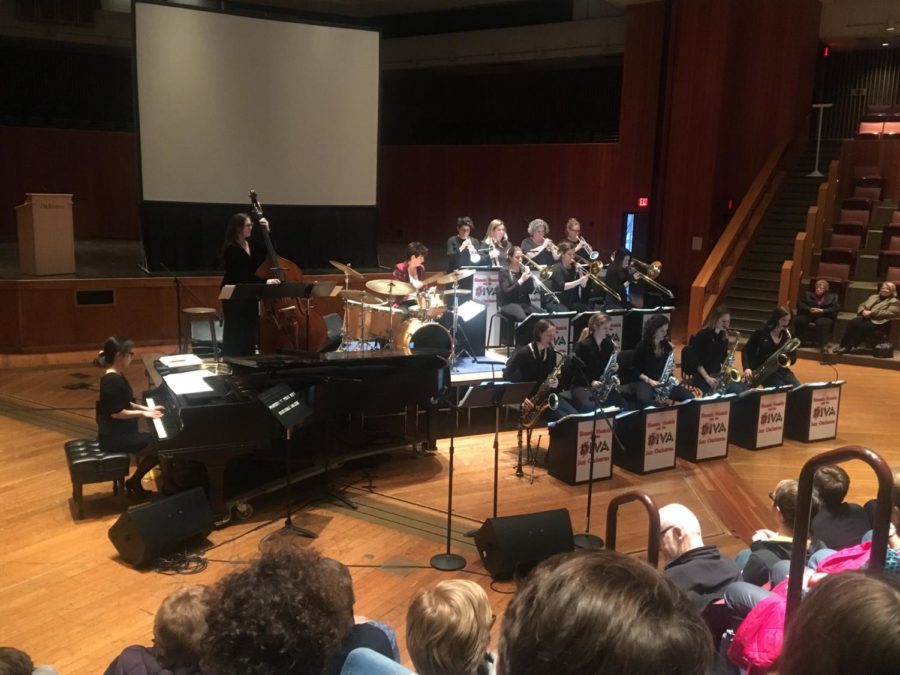 [ad_1]
Dickinson College's Artist-in-Residence Program featured the all-female DIVA Jazz Orchestra as they celebrated their 25th anniversary during their four-day on-campus residency.
According to music professor and residency coordinator Jennifer Blyth, the music department's residency program regularly brings three to four groups to campus "who interact through music in multiple interdisciplinary avenues." The DIVA Jazz Orchestra, according to their website, is an all-female group of 15 musicians who were found after nationwide auditions. The group is based in New York and "performs all over the world playing contemporary, [and]mainstream big band jazz…. The residency program featured two key events, a performance on Sunday February 25 and a screening of the film The girls in the group Monday, February 26
On Sunday, DIVA Jazz Orchestra played two sets in the Anita Tuvin Schlechter Auditorium (ATS) where audience members nodded and stamped their feet throughout the concert.
When asked why they were attending the concert, many people commented on the lack of women in mainstream jazz bands. Leigh Parrott '18 said that "an all-female jazz ensemble group is something rare, something you don't see very often. Also, they are fantastic musicians, so I try to attend as many shows here as possible because we always have great outside artists playing for us.
According to Blyth, the lack of jazz players was part of the reason the music department decided to bring the orchestra to campus, explaining that "famous jazz critic George Simon once said in the New York Times that 'Only God can make a tree and only Men can play jazz.' I hope that by bringing DIVA here, we can all immediately recognize the big mistake in this statement.
She also explained that female jazz players, such as the DIVA performers, have long fought the claim that only men can play jazz.
"DIVA is here against the backdrop of voices dating back to the 1930s – voices of some of the greatest iconic female jazz artists who shouted ME TOO long before it was a hashtag that went viral in 2017," she said. Explain. "Their stories are some of the most compelling stories of resilience and survival through music. I hope these largely ignored voices and their stories will resonate with students across campus.
Caroline Snyder '19 appreciated the opportunity to have the artist-in-residence program with an all-female group. She described her experience as a female trumpeter, starting in fifth grade as the only female out of 15 trumpeters and overcoming the stereotype that only boys could play the trumpet. Snyder said, "For me to see a whole group of women was awesome and they really challenge gender norms in music. It is fabulous."
Trumpet major Morgan Bates '18 came to the gig "with a deep interest in the representation of women in music, so seeing this top band in action is basically a dream come true."
Bates also explained that, although the fact that the musicians are all female must be emphasized in order to recognize their voices, "they swing like no other band I've heard before…in terms of musicality, they're just good." musicians. Period."
Similarly, Nhat Anh Ngo Dan '21 remarked that the band played "with that reckless abandon that's really, really nice…they have those moments when they shine with their solos, but when it all comes together, they still have it."
Drummer Carl Hamilton '21 concluded, "Whether it's men, women or cyborgs playing, when you close your eyes, it's just good music."
[ad_2]
Source link