A first performance of "THE BUFFINGTON BROWN JAZZ BAND" to benefit the 20th anniversary of Arts Fifth Avenue | Art&Research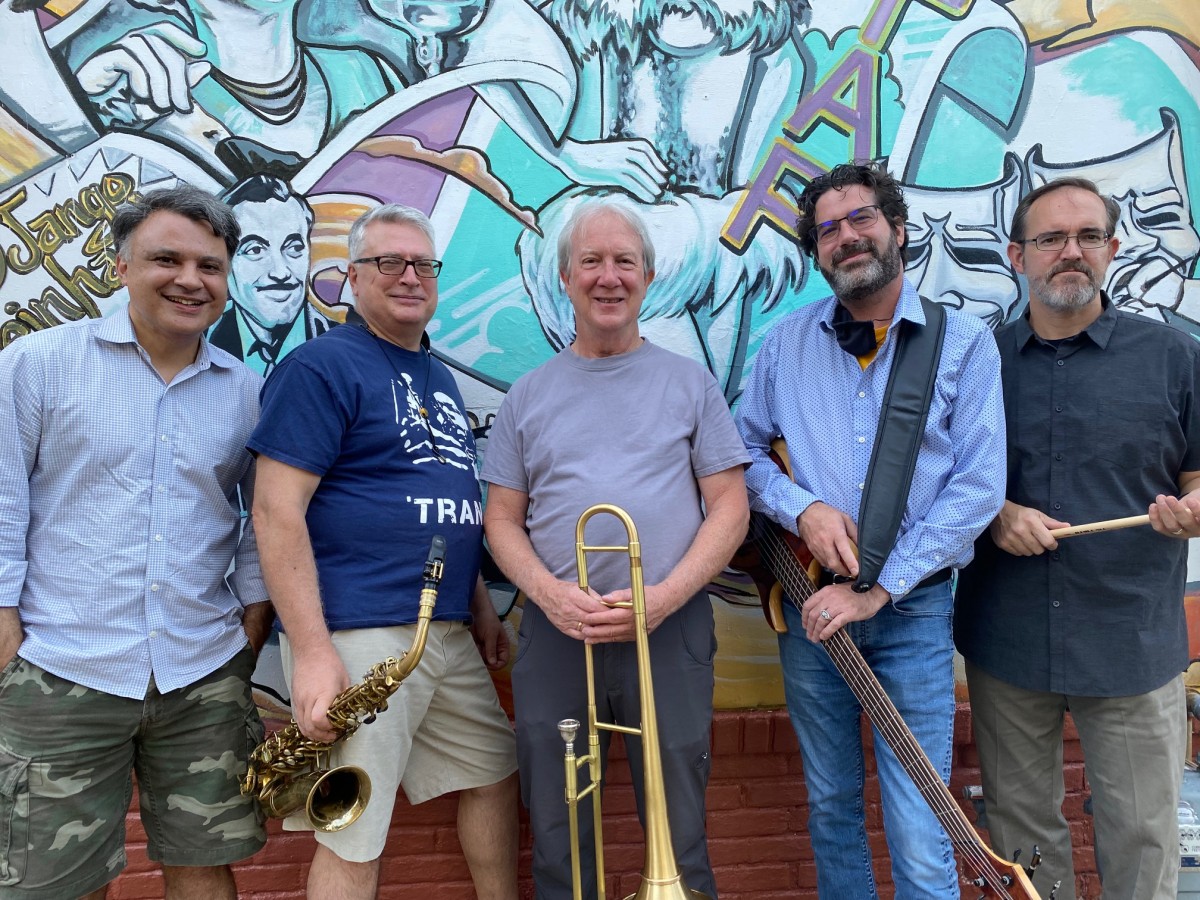 [ad_1]
A first performance of "THE BUFFINGTON BROWN JAZZ BAND" FamousFunkytown's Favorite Neighborhood Art Center 20 years of music, art and dance
Pictured (left to right):
Charles Whitehead, Jeffrey Todd, Pat Brown, Jeremy Hull and Joe Carpenter.
The world was a different place: twenty days ago, twenty weeks ago, and certainly twenty years ago when the tragic events of September 11 altered our collective consciousness forever. However, the events of that day did not deter founder and artistic director Gracey Tune from opening the doors to the new neighborhood arts center, Arts Fifth Avenue (A5A), as planned on September 11, 2001. From the start, A5A has been a haven of peace where all who come can feel supported and encouraged, whether they are artists or spectators, whatever their age or artistic abilities.
The response over the next 20 years has been consistently individually engaging. A5A has hosted thousands of locals who have attended countless concerts, plays and classes – including its signature offering: tap dancing lessons – all without missing a thing, no matter what the world threw at its path.
Board Chair Paula Fultz, who was also part of the organization in its early days, shares this: "As we mark our 20th anniversary this weekend, we are grateful to our community and our country for the support and freedom we have enjoyed to share such a variety of creative expressions over the past two decades and to enjoy with our neighbours. It was a gift, and it's something we want to celebrate!"
Knowing that not everyone will be in a celebratory state of mind this close to the 20th anniversary of 9/11, however, the board and staff have postponed any celebration of the official "anniversary party" and hopefully exuberant A5A from the 12th to the following weekend. (19/09/2021).
All members of the community are invited to don a birthday hat if you have one and enjoy new music as the talented musicians of the Pat Brown Quintet premiere on their stage on Sunday, September 19 at 8:00 p.m. Conductor, trombonist and composer Pat Brown is also a visual artist and will exhibit many of his works on site. the art will be for sale and a portion of the proceeds will go to Arts Fifth Avenue.
Alongside the community, A5A hopes to usher in another 20 years of arts life from their unique corner in the neighborhood – through individual discovery, experience and expression; everyone is welcome!
ABOUT THE EVENT
Buffington Brown Band WORLD PREMIERE Jazz Benefit Concert and Art Exhibition featuring new work performed by the Pat Brown Quintet and the visual art of Pat E Brown
Where Arts Fifth Avenue, 1628 5th Avenue, Fort Worth, 76104
When: Sunday, September 19, 2021
Doors open at 7 p.m. (Masks or proof of vaccination will be requested)
Beginning of the concert at 8 p.m.
How much: $20 ticket online
All proceeds from ticket sales will be donated to A5A as a fundraiser.
Additionally, 20% of all visual art sales will also benefit Arts Fifth Avenue.
ABOUT THE GROUP
Trombonist PAT BROWN hails from Fort Worth and has been writing, arranging and performing music in the Metroplex for almost 50 years now. Buffington Brown's band (so called for its namesakes, brothers Patrick and Edward Buffington), is a group he assembled to perform original works, most of which have not been heard by the public. Pat lives in Arlington with his wife, Peggy. He is an avid motorcyclist and prefers to ride, do visual art, play the TROMBONE and MAKE MUSIC rather than, say, mowing and working in the garden.
Drummer JOSEPH CARPENTER has been a freelance musician with DFW since the late 90's. He holds a master's degree from UTA where he studied with Mike Drake. He teaches DRUM set at several local colleges and conducts jazz and percussion workshops, camps and clinics nationwide. He is well versed in a wide variety of musical styles including rock, country, top 40, heavy metal, jazz and big band jazz.
SAXOPHONIST JEFFREY TODD grew up in Indiana, started playing the clarinet in 6th grade, and learned about jazz by listening to his uncle's record collection as well as the radio selections of legendary jazz DJ Ralph Adams in Indianapolis. He quickly launches into the alto saxophone, then into the tenor. His ambition was initially to study saxophone and jazz at Indiana Univ. His college and graduate studies, however, led him in another professional direction and he is now a professor of German and French studies at TCU.
After a 17-year layoff, he started again in 2005, after a conversation with a friend inspired him to take up the horn once more. He returned to playing with a vengeance around this time and has been actively playing tenor jazz and lead alto sax with various Metroplex jazz ensembles since 2007.
Our very humble BASSIST, JEREMY HULL, has been part of the DFW music scene for over twenty years. He has performed with dozens of bands and played on nearly fifty albums representing a multitude of styles, including jazz, rock, country, big band and pop. He once played a groove so funky that his double bass bridge broke in half on stage in the middle of a performance.
TICKETS AVAILABLE ONLINE AT https://buy.ticketstothecity.com/purchase.php?date_id=40664
REMARK: For respect and protection: All ticket holders, students, volunteers and A5A staff will be asked to wear a mask or provide proof of vaccination before entering the building.
ABOUT THE ARTIST
I am a musician with a passion for everything visual. Music and improvisation coincide and inform my painting process.
I aspire to an artistic and intelligent codification of the subliminal.
I am a colorist who sometimes works in black and white.
My work is ultimately not self-referential. It is relational, based on looking, listening, dreaming, observing and practicing. We watch, we listen and then we work (or we play). At the end of the day, it's all about process-oriented stuff.
I am currently interested in the delimitation of order and chaos as well as the juxtaposition of technology and nature seen through the literal prism of science and my imagination.
– PATRICK E. BROWN
ABOUT FIFTH AVENUE ARTS
ARTS FIFTH AVENUE is a 501c3 non-profit corporation. All donations are fully tax deductible, as permitted by law. Partial funding provided by Fort Worth Arts Council, City of Fort Worth Arts Commission, Texas Commission on the Arts, National Endowment for the Arts, and North Texas Giving Day Fund of Communities Foundation of Texas.
FIFTH AVENUE ARTS
Gracey Tune, Founder and Artistic Director
(817) 923-9500
www.artsfifthavenue.org
https://www.artsfifthavenue.org/history-1.html
www.artsfifthavenue.org/support.html
Official site
Price
[ad_2]
Source link