US Army Jazz Band Tells WWII Story – The Lion's Roar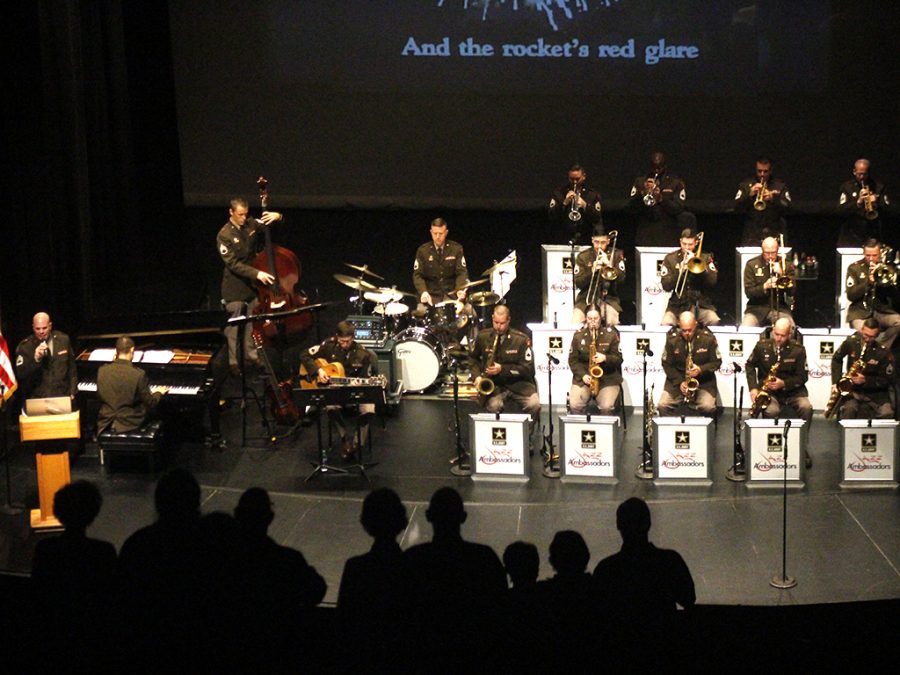 [ad_1]
The Columbia Theater for the Performing Arts brought together the music and feelings of the military through a live jazz performance.
The Jazz Ambassadors of the US Army Field Band is a 19-member jazz band that performed at the Columbia Theater on October 27.
The jazz band's show, titled "The Greatest Generation," musically commemorated veterans' service and targeted the World War II era. Throughout the concert, scenes corresponding to the different stages of the war played out on a large screen above the band.
US Army Field Band saxophonist Michael Chamberlin likened the band's performance to telling wartime history.
"That's our job," Chamberlin explained. "It's to communicate, interact and hear other people's stories. Everyone has a story to tell. We tell ours through music.
"The Greatest Generation" helped people relive memories of their lives during World War II. Janet Toms, a participant, said "The Greatest Generation" allowed her to reminisce and reconnect with her loved ones.
"Well, I think it brought back a lot of memories of our parents," Toms explained. "My father fought in the Second World War, and that connected me to my parents, and I'm very proud of my uncle, who just passed away three years ago. He too fought in World War II. So it's a direct link with the people I love.
Captain Jim Siracusa, a 99-year-old World War II veteran, was held as a prisoner of war after his bomber was shot down over France. Syracuse was recognized during the show.
Chamberlin reflected on the honor of playing for Syracuse.
"We were very lucky to have a World War II veteran in the audience tonight, and we just found out before we got on stage that he would be here," Chamberlin explained. "It's very rare to have a World War II veteran because there aren't too many left. So we were very lucky to play for him, and it was great to see him in uniform as well.
Annette Willis from England who attended the show expressed the importance of America's armed forces.
"It's only because of what they do that we live," Willis said.
[ad_2]
Source link