Postponed: Delfeayo Marsalis and Uptown Jazz Orchestra to broadcast live on October 30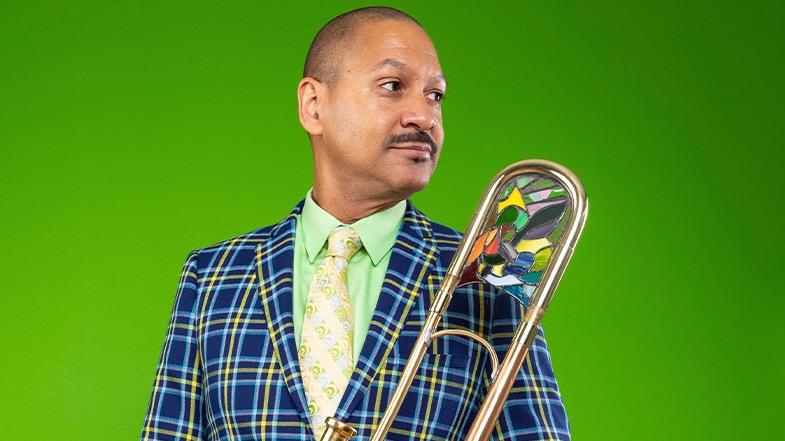 [ad_1]
Editor's Note: Due to widespread power outages in New Orleans caused by Hurricane Zeta, an October 30 virtual livestream featuring Delfeayo Marsalis and Uptown Jazz Orchestra has been postponed. The Performing Arts Center hopes to postpone the event soon.
UNIVERSITY PARK, Pa. – Family musical trombonist Delfeayo Marsalis and the Uptown Jazz Orchestra will be giving jazz fans a free show on Halloween Eve. The concert will be broadcast live from Esplanade Studios in New Orleans starting at 7:30 p.m. on Friday, October 30.
Visit the Performing Arts Center Online for more information.
The musicians will perform excerpts from their recent CD "Jazz Party", as well as a variety of street brass compositions.
The program is part of the Performing Arts Centre's "Up Close and Virtual" fall season. Contributions from center members and a grant from the University Park Student Fee Board help make the program free. The Glenn and Nancy Gamble Foundation provides additional support.
"We can expect an engaging, exciting and uplifting performance," said center director George Trudeau.
Marsalis is one of the best jazz trombonists, composers and producers. Known for his "technical excellence, inventiveness and frequent touches of humor" (Los Angeles Times), he is "one of the best, most imaginative and musical trombonists of his generation" (San Francisco Examiner).
In 2011, Delfeayo and the Marsalis family (Father Ellis and brothers Branford, Wynton and Jason) won the country's highest jazz honor – a National Endowment for the Arts Jazz Masters Award.
Geisinger and Northwest support the virtual presentations of the Center for the Performing Arts.
For more information on the events of the upcoming season, visit "Up close and virtual. "
Find the Performing Arts Center on Facebook, Twitter and Instagram.

[ad_2]
Source link