Luther's Jazz Orchestra and Jazz Band give spring concerts – Luther College Chips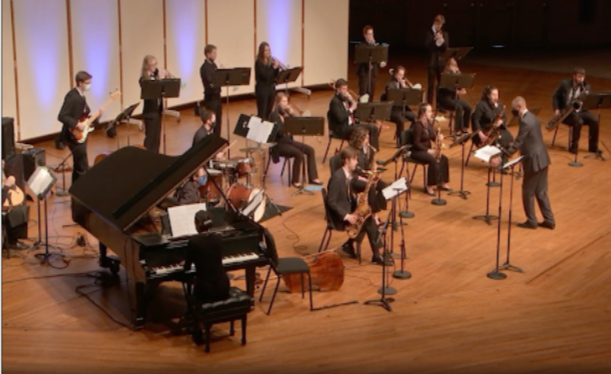 [ad_1]
Luther College's music department offered the online audience a double jazzy feature last weekend: the jazz orchestra and jazz band gave performances on Saturday 24 and Sunday 25, respectively. The concerts have been pre-recorded in front of a limited audience.
Jazz Orchestra kicked off the weekend with a diverse ensemble that included "Old King Dooji" by Duke Ellington, "A Night in Tunisia" by Dizzy Gillespie and Frank Paparelli and "Caravan" by Ellington, Irving Mills and Juan Tizol. The next day, Jazz Band closed the festivities on Sunday afternoon. Their ensemble presented a varied program, including tracks like "Spain", "Notorious RBG" and "Freedom Day", all of which featured student soloists. The two directors were very thoughtful in choosing the songs they wanted to present. Music teacher Juan Tony Guzmán ('90), director of Jazz Orchestra, explained his approach to selecting the pieces on the program.
"I wanted to present different soloists in the band, and that means that within the saxophone section everyone has a moment when they shine," Guzmán said. "There is also a diversity in the jazz genre, starting in the 1930s and ending with more recent arrangements and more recent approaches to jazz."
The closest to the concert, "Caravan", is usually found at the start of a set, to get the audience excited and involved. However, Guzmán decided to place the opening signing at the very end for these same reasons. It also allowed solos for Jazz Orchestra saxophonist Tom Altier ('22) and drummer John Miller ('21).
"It's a good match because it's very exciting, and it motivates the audience to listen more, until the very end," said Guzmán. "The crowd love Caravan, and with some very exciting solos from Tom Altier and John Miller, it's a perfect way to end."
Assistant music teacher and Jazz Band director Jon Ailabouni ('10) wanted his set to reward both the audience and the band for successfully ending an unpredictable year.
"This program is sort of full of my favorites," Ailabouni said. "It's been a tough year, and I just thought we needed to load this program up with stuff that is going to be fun to play, enjoyable to work on, and diverse in different ways."
Even though entertainment was the main focus of the ensemble, Ailabouni also ensured that the performance reflected the present tense and gave a voice to composers who had a message to share.
"The song 'Freedom Day' is an example of a protest song in jazz, about emancipation," Ailabouni said. "After the murder of George Floyd, I started to think about the tradition [of] protest music in jazz, and how this body of work tends to be overlooked in academia. "
The track "The Notorious RBG" caught Ailabouni for its hip-hop groove and obvious reference to late Supreme Court Justice Ruth Bader Ginsburg. The piece was released earlier this year, and he personally spoke to composer and Berklee College of Music teacher Ayn Inserto to hear what prompted him to compose such a piece.
"Inserto composes and thinks of his heroes," said Ailabouni. "What Inserto hoped for was to inspire another generation of women in jazz to be great jazz musicians and to be pioneers, just as Ginsburg was a pioneer."
Saxophonist Miranda Heagney ('21) also found deep connections to Ginsburg's life and work in the way the group performed the piece. Heagney saw parallels between the parts that each member of the ensemble plays in music with Ginsburg's fight for equality.
"In this piece, it's very evident that each person is equally important," Heagney said. "To me it seemed like it had to do with how RBG fought for equality for everyone."
Both concerts featured a varied program to send a wider message to the viewing audience. Although the two concert programs were formed differently, each director ultimately wanted each song to keep alive the sense of community that is essential to jazz, but was absent in the last year.
"Jazz is music created in community," said Ailabouni. "It's not just about musicians coming on stage and playing, it's an exchange with the audience. There are dances, movements, shouts and encouragement to soloists. There are going to be a lot of people who want to come [next] fall and [this] summer. "
Both directors believe that jazz brings people together and that live performances connect musicians and audiences better than virtual performances. While Guzmán has seen impressive maturity and motivation in Luther's bands again this year, he recognizes the energy that the live show brings.
"When we make music, we don't just make it for ourselves, but mainly to share it with other people, and the more people we have, the more exciting we are," Guzmán said. "Once it is sure to come together and accommodate a large audience, once the community has resumed their routine of attending concerts, you are going to find a greater degree of motivation, even if the students have. still worked a lot last year. "
Due to investments in COVID-19 precautions, musical ensembles have been able to continue playing and sharing music. Guzmán is always eager to compliment his students for adjusting to an unusual year so easily, but he also has immense respect for the administration for getting the band playing in the first place.
"As a Luther graduate and faculty member for 26 years, I am grateful to the administration, from the president to the dean to the music committee responsible for COVID-19 regulations," Guzmán said. "Everyone did it with a sense of mission to serve students. It inspires me immense respect.
[ad_2]
Source link