Adonis Rose, New Orleans Jazz Orchestra and singer Cyrille Aimee explore the French Connection of New Orleans on the new CD "Petite Fleur"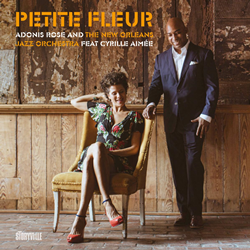 [ad_1]
Musically, how do you tell a story here? I thought about the long shared history of New Orleans and France, and that became the concept. A story about the musical relationship between these two places.
RICHMOND, Calif. (PRWEB)
August 18, 2021
The famous New Orleans Jazz Orchestra examines and her hometown's deep relationship to the nation of France with her fall release of "Petite Fleur" on Storyville Records (digital release September 24, physical release October 15). The second album under the artistic direction of drummer Adonis Rose features ten songs, including nine standards associated with French and New Orleans musicians. The tenth track is an original by Cyrille Aimée, the acclaimed jazz singer who was born and raised in France but now lives and works in The Big Easy itself. Aimée is NOJO's collaborator and singer on the album.
It was the singer who initiated the collaboration, telling Rose that she would like to work with the big band of 18 musicians and asking if he had any ideas for a project. "I said, 'Well, alright, musically, how can I tell a story here?' Rose remembers. "I thought about the long shared history of these two places, and that became the concept. A story about the musical relationship between New Orleans and France.
The title tune, a standard by jazz clarinet legend Sidney Bechet, embodies the concept: a composition by a New Orleans artist living in France, performed by a New Orleans band with a French singer. . Composers on both sides of the Atlantic, from Michel Legrand to Jelly Roll Morton, receive similar treatment. The same goes for various styles of New Orleans, from a stomp ("Get the Bucket") to a second line ("Down") to Fats Domino-style rock'n'roll ("I Don't Hurt Anymore ").
Besides being her star singer, Aimée is also the star soloist of "Petite Fleur", applying her razor-sharp scat vocals to "In the Land of Beginning Again", "On a Clear Day" and "Undecided". She is in good company, with exceptional instrumental improvisations by soprano saxophonist Ricardo Pascal ("Petite Fleur"), tenor saxophonist Ed Peterson ("Get the Bucket") and, on "Down" by Aimée, a fierce trumpet duel. between Ashlin Parker and John Michael Bradford. However, it's really the orchestra itself – along with the parallel lands of New Orleans and France – that's headlining alongside Aimée.
Adonis Rose was born January 11, 1975 in New Orleans, descendant of a musical family. He started playing drums at the age of 3, following in his father's and grandfather's footsteps, and as a teenager fell in love with the music of fellow New Orleans Wynton and Branford Marsalis, whose father, Ellis, eventually hired Adonis as a member of his working quintet. .
Rose won a prestigious presidential scholarship at Berklee College of Music in Boston; right after, however, Terence Blanchard called him and invited him on a tour. "So two days after I graduated from high school, I went out on the road with Terence. It was my first gig, "he recalls. He continued to work with Betty Carter, Marlon Jordan and the Lincoln Center Jazz Orchestra, before abandoning Berklee to hit the road and settle in New Orleans. .
In 2002, Rose became the founding drummer of the Grammy-winning nonprofit New Orleans Jazz Orchestra (NOJO), the first institution in the birthplace of jazz to build a performing arts center. dedicated solely to the development of music. He retained this position even after moving to Fort Worth, Texas in the aftermath of Hurricane Katrina, where he taught at the University of Texas at Arlington and formed the Fort Worth Jazz Orchestra. Rose returned to Crescent City in 2015 when NOJO was her most stable gig, soon to be her full-time job.
The following year, Rose took the reins of the 18-piece group, inaugurating her leadership with the 2019 release of "Songs", a tribute to New Orleans musical legend Allen Toussaint. "Petite Fleur", Rose's second project as artistic director, has been delayed by the outbreak of the COVID-19 pandemic. However, as the NOJO and the city of New Orleans itself have done so often over the years, he persevered. In this, says Rose, Aimée played an important role.
Growing up in the town of Samois-sur-Seine in France, Cyrille Aimée slipped through his bedroom window to join the gypsy caravans gathered for the annual Django Reinhardt festival. She would carry the joyful spirit of gypsy jazz to the Montreux Jazz Festival, where she won the 2007 vocal competition – the first of such distinction – and recorded her debut album with the silver prize. In 2014, Aimée made her major debut with "It's a Good Day" (Mack Avenue), featuring an innovative two-guitar band that returned for the highly acclaimed "Let's Get Lost" of 2016. "Move On : A Sondheim Adventure "(2019) is his most recent release.
"Cyrille is a phenomenal performer," says Rose. "Working with her was effortless and she has a great chemistry with the orchestra. I was struck by his level of professionalism and his ears. She can hear everything. She came in and was successful in the first and second takes. It was a pleasure to work with her. "
Adonis Rose and the New Orleans Jazz Orchestra with Cyrille Aimée will perform a CD release concert at Jazz Market, 1436 Oretha Castle Haley Blvd, New Orleans, on Friday 10/15. Additional dates are planned for January 2022: 1/14 La Mirada (CA) Theater of the performing arts; 1/15 Scottsdale (AZ) Performing Arts Center; 1/16 Tucson Jazz Festival (AZ). Midwest and East Coast appearances for the spring are in the works, as well as possible dates in Europe around Jazz Ascona in Switzerland (6 / 24-7 / 3).
Share the article on social media or by email:
[ad_2]
Source link